For commissioned manufacturing of Extract, Tablets, Granule
Please rely on the 100% Japanese invested company!!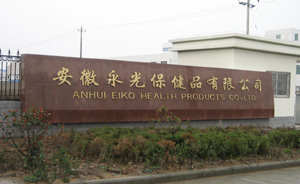 ANHUI EIKO HEALTH PRODUCTS CO., LTD. is a 100% Japanese invested company which was established in 2006.
We mainly handle processing of Extracts, Concentration, Spray dried, Pelletization and tablets which are made from plants, which in the end will be used for health food products.
In accordance to our Parent Corporation's management principle "Security and Safety", we practice from traceability to production according to the Japanese management system. Also, we adopt the latest facility that is the same level as Japan and machinery that is also designed in Japan. We carry out manufacturing of products, composition prescription and sanitary management of the factory under conservation and supervising by Japanese staff.
Our quality control objective is "Strictly protect quality, strictly manage, provide secure, safe and stable products, aim for continuous improvement"
Please, leave commissioned manufacturing (Extract, Tablets, Granule, Compound) to us!!
Company name
ANHUI EIKO HEALTH PRODUCTS CO., LTD.
Address
NO.005 SOUTH JINFU ROAD, SHUANGFENG, INDUSTRIAL ZONE, CHANGFENG, HEFEI, ANHUI, CHINA
TEL
+86-551-639-3187
FAX
+86-551-639-3186
Inquiry
>> TO INQUIRY PAGE
Representative
KAZUHIRO FUKUDA
Director
KAZUTOSHI HAMA
Capital Fund
US$1,000,000. -
Number of employees
55 people
Ground - floor area
12,820.91m² (Ground property area)
Factories
Factory No.1: Processing of natural products such as material for health tea and Chinese raw medicine.

Factory No 2: Production of botanical Extract, commissioned manufacturing of tablets. Testing laboratory ,office and boiler room, power building included.

Certificates
ISO9001-2008 acquired
Description of business

Processing of raw material such as Chinese raw medicine and health tea
--- Mainly processing such as selecting, cutting, crushing, roasting and machine drying of botanical material.
--- Major facilities: Cutting machine, Grinding machine, Drying machine, Roasting Machine, Vibrate sieving machine, Metal detector etc...
[Line of products]
Houttuynia cordata (Leaf and Fruit), Senna Stems, Astilbe thunbergii, Jerusalem artichoke (Root), Diospyros kaki (Leaves), Sasa Veitchii (Leaves), Artemisia princeps (Leaves), Chrysanthemum morifolium (Flower), Eriobotrya japonica (Leaves), Morus alba (Leaves), Nelumbo nucifera (Leaves), Ginger, Eucommia ulmoides (Leaves) etc...

Commissioned manufacturing of Extracts and Tablets for Health products

--- Processing of botanical Extract, Concentration, Spray drying, pelletization, tableting
--- Main facility: Extraction apparatus, concentration device, Spray drying machine, Vibrate sieving machine, fluid-bed palletize dring machine, wet type granulating machine, high speed tableting machine


[Line of products]
--- Tablets: Commissioned manufacturing of all sorts of tablets such as Chlorella Tablets, Spirulina Tablets and others.
--- Extracts: Houttuynia cordata dried extract, Camellia sinensis (Tea flower) dried extract, Panax gingseng dried extract, Ginkgo biloba dried extract, Reishi mushroom dried extract, Eucommia ulmoides dried extract, Sasa veitchii dried extract, Agaricus Blazei dried extract, Morus alba dried extract, Corn silk dried extract, Nelumbo nucifera dried extract etc...
Copyright© 2002- Fukudaryu Co.,Ltd. All Rights Reserved.